First of all how am I just watching this masterpiece right now? WHY NO ONE TELL ME THAT THIS DRAMA WAS SO GREAT?! WHY IT TOOK ME WATCHING THE SOUNDTRACK ON YOUTUBE TO WATCH THIS DRAMA?
---
To say that I've never heard about this drama would be lying. I'm aware that this drama exist because Yoo In-Young (as Han Yoo-ra) was in Mask (she was so great in Mask!), so I know from checking her filmography. But I didn't watch it right away, because honestly, Alien is not really my thing [apparently, Do Min-joon is an exception :p]. Also Jun Ji-hyun is the lead actress, so this should be good, right?
My Love from the Star [MLFTS] is a romantic fantasy story about an alien who landed on Earth in the Joseon Dynasty and, 400 years later, falls in love with a top actress in the modern era.[Wikipedia]
It took me from the get-go to get me hooked with it, and by hooked, I mean, pulled an all-nighter and binge-watching all of the episodes. And now I have too much feels for Do Min-joon [Kim Soo-hyun] and Cheon Song-yi[Jun Ji-hyun]. Their chemistry is off the charts, out of this world if you will 😉 . It helped that they have worked together [Thieves (2012)] before this drama. Even in that movie, you can already feel their palpable chemistry. Also the friendship between Kim Soo-hyun and Jun Ji-hyun off-camera seems genuine, like they do really care and respect about each other eventho they have 7 years age gap between them. No awkwardness at all. They seems had so much fun filming this series. Especially Kim Soo-hyun, who can't keep a straight face throughout the scenes. The total opposites of Do Min-joo's personality who always can keep his emotion in check.
The story started when Cheon Song-yi moved to a new apartment and met her neighbor, Do Min-joon, who turned out to be her Professor in the class she took at College. And Song-yi happened to looked like the girl Min-joon loved in the past. Their relationship moved to another level when Song-yi stayed at Min-joon's apartment because of the reporters camping out in front of hers in the wake of Han Yoo-ra's death. I'd like to mention that Yoo In-Young portrayal as the lover of an evil man really suits her. Both in here and Mask.
Song-yi was frustrated why Min-joon didn't seem interested in her or whatsoever. He always keep his cool toward her. So she challenged him to stared at her for 15 secs. When 15secs almost up and Song-yi felt disappoint and embarrassed because she failed to charmed Min-joon. When she was about to get up and leave, he pulled her and kiss her.
Right after he kissed her, he got a fever. Turns out, human's spit [which is full of bacteria] could weakened his strength. He passed out because of that kiss alone LMAO. So now every time they kissed, he would passed out. Well, as long as they didn't exchange spit, he should be fine LOL
Being alone for 400 years, Min-joon didn't used to say what he's feeling to others. So he never said the "L" word to Song-yi, even when she said that words countless times. But what Song-yi didn't know, that Min-joon could stop the time and said those words to her or steal a kiss from her. He had his reason guys, don't throw the stones at him yet 😉 .
Aside from Min-joon and Song-yi's relationship, I think we all are agreed that Min-joon's scenes with Song-yi's younger brother, Cheon Yoon-jae, were priceless as well. You all know which part I'm talking about…Yes! The E.T touch moment! hahaha 😀
or how he jealous of his sister for having an alien boyfriend LOL
Now let's talk about the bad guy, Shin Sung-rok portrayal as Lee Jae-kyung is chilling to be quite honest. Like when you see his face, you know that he is up to no good. I love how in the end they didn't try to humanized him. Like he really is a true psychopath deep through to his core. I mean, he would do anything to achieve his goals. Even when he had to kill his own family when it comes down to it.
I feel so sorry for his younger brother, Lee Hee-kyung, who idolized his hyung so much and also happened to be Song-yi's childhood friend and has been in love with her since they met in school but Song-yi always rejected his love. aww 😦
The ending to this drama was such a bittersweet and unexpected for me. Because the second I started this drama, I predicted that Do Min-joon would turn into human so he could stay in Earth forever. But at the same time, this is what would happened in real life [if alien is real and lives among us]. So the ending was somewhat believable. It's sad of course because he could disappear anytime unannounced and don't know when he'll be back. It made them to appreciate every moment they had together. Live in the moment.
Also from the thread I read online, that he went back and forth from his planet and earth so that he could aging together with Song-yi. Something about the time in his planet is faster than the earth so he could aging whenever he's back to his planet and that they could grow old together. IDK IDK but I like this theory.
I am so sad. I want more of them. I'm having Kim Soo-hyun and Jun Ji-hyun withdrawals already. I hope they keep working together in the future.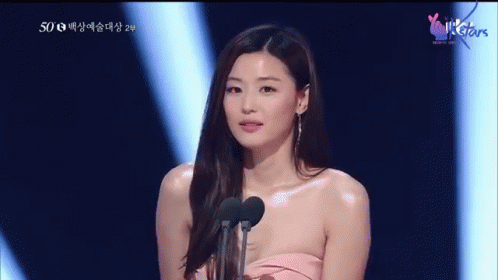 ---
And here is the soundtrack, the sole reason why I watched this drama. It has 10M views! So I thought, if this many people watch this video on Youtube, how many that have actually watched the drama itself?!?
Not only this song, most of the song from the OST were also great. I specially like the instrumental music part. It feels somewhat whimsical like…a fairytale.
---
To summed up how I feel since I re-discovered my love for Korean Drama XD
A/N: All of the pictures and gifs belong to the rightful owner.  None of them are mine.